Posted by YoniDa'Punani on 16th Sep 2022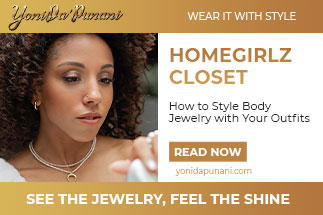 Many people might think of jewelry as merely an accessory, but in the world of fashion, it is more of an art form. The right kind of jewelry tells a story. It reflects your personality, identity, and style while bringing out your best features and making you feel good about yourself.
You might have heard of classic jewelry pieces like necklaces, rings, and bracelets, but body jewelry is getting all the rage these days.
According to a poll, 72% of adult women in the US have body piercings. With women already spending over 100 minutes a week deciding their outfits, the last thing you need is a jewelry-matching dilemma.
But no need to worry; we're here to show you how to style body jewelry with your outfits.
How to Style Body Jewelry with Your Outfits
Because each body part is different and has its own set of requirements in body piercing, you would find a whole range of different body jewelry pieces.
Body jewelry is no different from your usual jewelry pieces; like other types, it is worn for various reasons, including fashion, culture, religion, and personal style. Despite the options in body jewelry, not every piece might necessarily go with your outfit.
Let's look at what works for different types of body jewelry.
Body Chains
Body chains find their roots in Indian culture, but now they are a widespread fashion trend worldwide.
Often made of silver or gold, body chains look good with even the simplest outfits. They are available in various styles, designs, and sizes and work for every body type out there.
You can wear a body chain over any clothing in your wardrobe, including a dress, turtleneck, blouse, swimsuit, or top. The chain style pairs particularly well with jeans, shorts, and pantsuits.
The best way to make your body chain shine is to wear it over solid colors; the beauty of the chain could get lost when paired with florals or patterns. Luxury brands like Chanel and Dior styled body chains with skirt suits, coats, cardigans, and sweaters.
Belly Button Rings
The popularity of belly button jewelry has massively increased over the years and for good reason. This jewelry works wonders to enhance your appearance. For example, gold belly button rings, in particular, offer a sophisticated and refined look to your outfit. On the other hand, silver belly button jewelry can give you a playful and flirtatious look which is bound to have heads turning wherever you go.
You can wear belly button rings with virtually any outfit showing your belly button. The most popular outfit to wear with these rings is a short, fitted T-shirt and a pair of casual yet stylish trousers. A belly button ring also looks great with drop-waisted jeans or shorts.
Barbells
A barbell is an earring with a bar in the middle and balls on either end. They are also called horseshoe barbells because of their shape. You can use barbells for different parts of your body, such as the earlobes, tragus, or nasal septum.
Barbells are generally made of gold, stainless steel, or platinum. You can select one of these based on the theme of your outfit. According to dermatologist Dr. Howard Sobel, founder of Sobel Skin, a gold barbell would be ideal for those with sensitive skin, so keep that in mind.
Tongue Jewelry
Statistics show that 42% of young adults in the US have tongue piercings and around half of those are women, so tongue jewelry is now mainstream in women's fashion.
Tongue jewelry is usually available in titanium, silver, gold, or surgical steel, so coordinate colors between your jewelry and outfit.
Earrings
Earrings are probably one of the most commonly worn jewelry types out there. Studs, hoops, dangles, climbers, and drops are great accessories for your outfit.
You should always consider what complements your coloring, frame, and a general sense of style while selecting which earrings to wear. Wearing larger earrings with simple outfits looks more stylish, whereas smaller ones would go better with more elaborate and patterned outfits.
Your selection of earrings also depends on the occasion. A simple and small earring design like hoops or drops should suffice if it is a formal event, but you might like something a bit flashier if you're going to a party. For professional contexts, studs would be the most appropriate choice.
Whichever earring option you choose, ensure it accentuates your skin tone instead of contrasting with it. Silver tends to go well with light and dark complexion tones because of its reflective characteristics.
Septum and Nose Jewelry
Not only are septum and nose jewelry extremely popular among women, but men too. For these piercings, people generally prefer small rings and studs.
The rings and studs can go well with any outfit. Due to their small size, theirs is a more subtle look, making it an easy accessory for almost any item in your wardrobe.
General Tips for Selecting Jewelry
●Use a color scheme for your outfit and match jewelry accordingly
●Dress for the occasion
●Avoid flashy and tacky jewelry items
●Choose jewelry items that complement the shape of your neckline
●Keep your look balanced by pairing simple items and elaborate items
●Mix it up here and there
Where Can I Find Jewelry to Style with My Outfits?
No matter how you style your body jewelry, at the end of the day, it all comes down to what you like best and what you want to wear. Try to play around with different types of body jewelry and create the outfits that give you the most confidence.
If you're a jewelry enthusiast or have recently started focusing on styling jewelry with your outfits, just visit our website at https://yonidapunani.com. We're an online jewelry boutique dedicated to fulfilling all your body jewelry needs. Among our wide variety of jewelry for the Homegirlz, you will find the best safe, comfortable, and stylish pieces. We hope to see you soon at our site and can't wait to fulfill all of your piercing desires.
GRAB THE DEAL BEFORE IT IS TOO LATE