Posted by YoniDaPunani on 30th Aug 2022
We've all heard that piercing is not a simple thing to do. It can be painful, and many types of piercings need to be done properly. However, there is one piece of information that you should know before you get pierced: the size of your jewelry.
The size of your jewelry is important because it will determine how much pain you feel from wearing it. If you are getting a large hoop earring, then it will be harder for them to fit into your ear canal, which means that you may feel some pain during wear time. If you are getting a small hoop earring, then the chance of them falling out is higher because they will not fit as well into your ear canal.
So, let's get to know everything about piercing size.
How do I know what size my body piercing is?
These are the standard sizes for body jewelry used for each piercing. However, we cannot guarantee that the size on our chart is the size used for your specific piercing. These are the standard gauges and lengths used by professional piercers. Everyone's body is different, and sometimes piercers will use different lengths and gauges depending on your body or the type of jewelry you want to wear. If you are unsure what size piercing jewelry to get, we recommend calling your piercer to ask him or her.
But here are the standard sizes of different types of piercings.
Belly/Navel Ring:
You can get belly rings made in various sizes, but the most common sizes for belly rings are 14G and 14G; 3/8 is the diameter of the ring, and 14G 3/8 is a half-inch wider than 14G.
The size you choose depends on the shape of your belly button and how comfortable you want to be with it. If you have a small flat belly button, you may want to go with a smaller ring that's more comfortable, while someone with a rounder belly button might want to opt for something larger because it will cover more surface area.
Nose Piercing:
Nose piercings are the most common, and you can get them in various sizes.
The standard nose piercing size is 20G, 1/4, which means that it is one-fourth of an inch in diameter. This size is ideal for most people, as it will not be too small or too big. You can also have an 18G nose ring with a diameter of 5/16" (1/2").
Tongue Piercing:
A tongue piercing can be done in a few different ways. The most common way is to have a 14G, 5/8" piercing through the center of your tongue.
The length of the hole that can be made depends on the thickness of the tongue and where it is located. For example, if you want to get your tongue pierced, you'll need a 14G or larger gauge. If you're planning on getting your tongue pierced at least once every few months, you should consider getting it enlarged at least once every six months.
Cartilage Piercing:
Cartilage Piercing comes in different sizes.
The 16G cartilage piercing is the most common size among piercers, and it is a great option for those looking to get a piercing that looks like a princess's tiara. It is in the shape of an "H" and can be done in one session. The size of this piercing is 16 gauge, which means it measures approximately 1/4" in diameter.
The 18G3/16" cartilage piercing is a great choice for those who want their new piercing to look more like a rosebud or flower. It is also a great option for those who have sensitive skin and worry about getting any irritation from the process. This site has an approximate length of 3/16".
The 1/4" cartilage piercing is another great option for those who want their new piercing to look like a rosebud or flower and aren't worried about getting any irritation from the process. It measures approximately 5/16" in length and has an approximate diameter of 1/4".
Eyebrow Piercing:
Eyebrow piercing is common among teens but also in many older people. However, it is not for everyone. The size of your eyebrow piercing will depend on the size of your earlobe. For example,
if you have an ear piercing that is 1/4" and 5/16", the eyebrow piercing would be 16G.
It is an easy piercing and takes about 5 minutes to complete. The healing time is about 2 weeks, so if you want to do it yourself, ensure you have plenty of time.
The best part about this piercing is that you can wear your hair back or down after it has healed so it doesn't look like a sore spot on your face. You can also choose whether or not you want your eyebrows pierced at all!
Industrial Barbell:
Standard Industrial Barbells are the most common type of industrial piercing, and the most common size is 14 and 16 gauge. The length of the barbell itself can vary based on the length of your ears and will be between 1-1/2 inches long.
Industrial Barbells are great for piercings that require a lot of support, so they're ideal for more serious piercings like nipples, tongues, and navels. Industrial Barbells are made from surgical steel and available in 14 gauge and 16 gauge sizes.
Labret Lip Ring:
The labret lip ring is a piercing currently very popular with women. The piercing is located right below the woman's lower lip and looks like a small silver ring. The labret lip rings are available in all different sizes and types.
The most common size of labret lip ring is 14G or 16G1/4", 5/16", and 3/8". The smaller the size, the closer it will be to your skin, so make sure you choose wisely!
Monroe Piercing:
You've probably heard of Monroe Piercing, but what exactly is it?
It's a piercing composed of the lobe and the shaft. The lobe is a ring that goes around your earlobe, while the shaft is the part that goes through your ear. This piercing style has been around for many
years, and it's been favored by celebrities like Marilyn Monroe, who wore them in her films and on her wrist.
Piercing sizes for this type of piercing include 16G1/4", 5/16", and 3/8".
Nipple Piercing:
Nipple piercings are a great way to express your individuality and are often a popular choice for women. Nipples vary in size and shape, depending on the jewelry used and the type of piercing. The most common size is 14 gauge (G3/8"), but some people prefer 18 gauge (G1/2").
Tragus / Helix / Rook / Conch / Daith:
The standard sizes of the tragus, helix, rook, and conch piercings are 16G, 18G3/16", 1/4", and 5/16". These are the standard-sized piercings on the ear and cartilage of the nose. The tragus piercings are placed above the opening of the ear canal, while the helix and rook piercings are placed at the bottom of each side of the ear canal. The conch piercing is located between the tragus and helix, usually in the cartilage near where it bends back toward your ear.
Septum:
There are a number of different sizes of piercings that you can get, and they all have their unique names. The most common sizes are Septum, 14G (16G is also commonly used), and half-diameter (HD).
The most common sizes for Septim piercings are 3/8", 7/16", 1/2", and 5/8". If you want to know more about the specifics of these piercings, feel free to ask us!
Ear:
The ear is one of the most common body piercings in the world, and a wide range of sizes are available. You can get a piercing from 20 gauge up to 18 gauge, which means you have quite a few options to choose from regarding the size.
What Gauge is My Piercing Jewelry?
The gauge size of your piercing is the thickness of the bar that goes through your piercing. In other words, it's the barbell's thickness. Note that the thicker the barbell, the smaller the gauge size. So a 12 gauge (or 12G) barbell is much thicker than a 20 gauge (20G) barbell.
What is the length of my piercing jewelry?
The length of your piercing jewelry refers to the wearable length of the barbell that goes through your piercing. It is measured from the top to the bottom of the straight barbell and does not include the balls or charms.
What is the diameter of my piercing jewelry?
Diameter measures the size of round barbells like hoops, captives, and circulars. It is measured from the inner and widest point of the circle.
Captive Bead Rings
Captive Bead Rings are measured from the largest inside diameter.
Captive Bead Rings are also known as CBRs, BCRs, and Ball Captive Rings. They come in many variations, shapes, and sizes, but the same measuring rule applies. Always measure the largest inside diameter of the circle.
We carry captives in a variety of gauges and lengths to suit any piercing.
Straight Barbells
Measure the length of a barbell between the two balls along the length of the bar, as shown in the diagram.
We carry barbells in an assortment of gauges and lengths so that you can find the perfect fit for your specific piercing.
Circular Barbells / Horseshoe Barbells
Circular/horseshoe barbells are commonly used as belly rings, nipple rings, eyebrow rings, earrings, ear plugs, and genital piercings. Circular barbells are measured from the largest inside diameter.
All piercings are different, so we have a great selection of 14k gold circular barbells in every gauge and length.
Curved Barbells & Belly Button Rings
Curved barbells, also bent barbells, are commonly used for belly button rings, nipple rings, eyebrow jewelry, rook piercings, and even septum piercings. Curved barbells are measured straight from the inner length between the two balls.
We carry curved barbells in 20G - 14G.
Nose Rings
The standard gauge for nose rings is 18G. Nose twists, also known as nose screws or nose studs, are measured from the base of the ball or charm to the beginning of the twist, as shown in the diagram. Measure nose bones to the end of the shaft before the beaded tip. Nose fishtails are measured from the base of the ball or charm to the end of the barbell. For more help picking the right nose ring for you, check out our Nose Piercing & Jewelry Guide.
We carry nose rings in 18G - 20G. From diamond nose rings to sapphire studs, we have many beautiful styles in gold and platinum.
Labrets, Lip Rings, Cartilage & Tragus Earrings
Labrets, also known as flat back barbells, are worn in various piercings around the cheeks and mouth, as well as in tragus earrings and cartilage studs. The flat back is perfect for piercings that require a close fit. They are measured from the base of the ball to the top of the flat disc. Standard lengths for labrets are 1/4" or 5/16". The 3/16" is generally used for cartilage rather than lip piercings for a nice, snug fit.
We carry labrets in many different sizes and styles.
Plugs, Tunnels, and Earlets Body Jewelry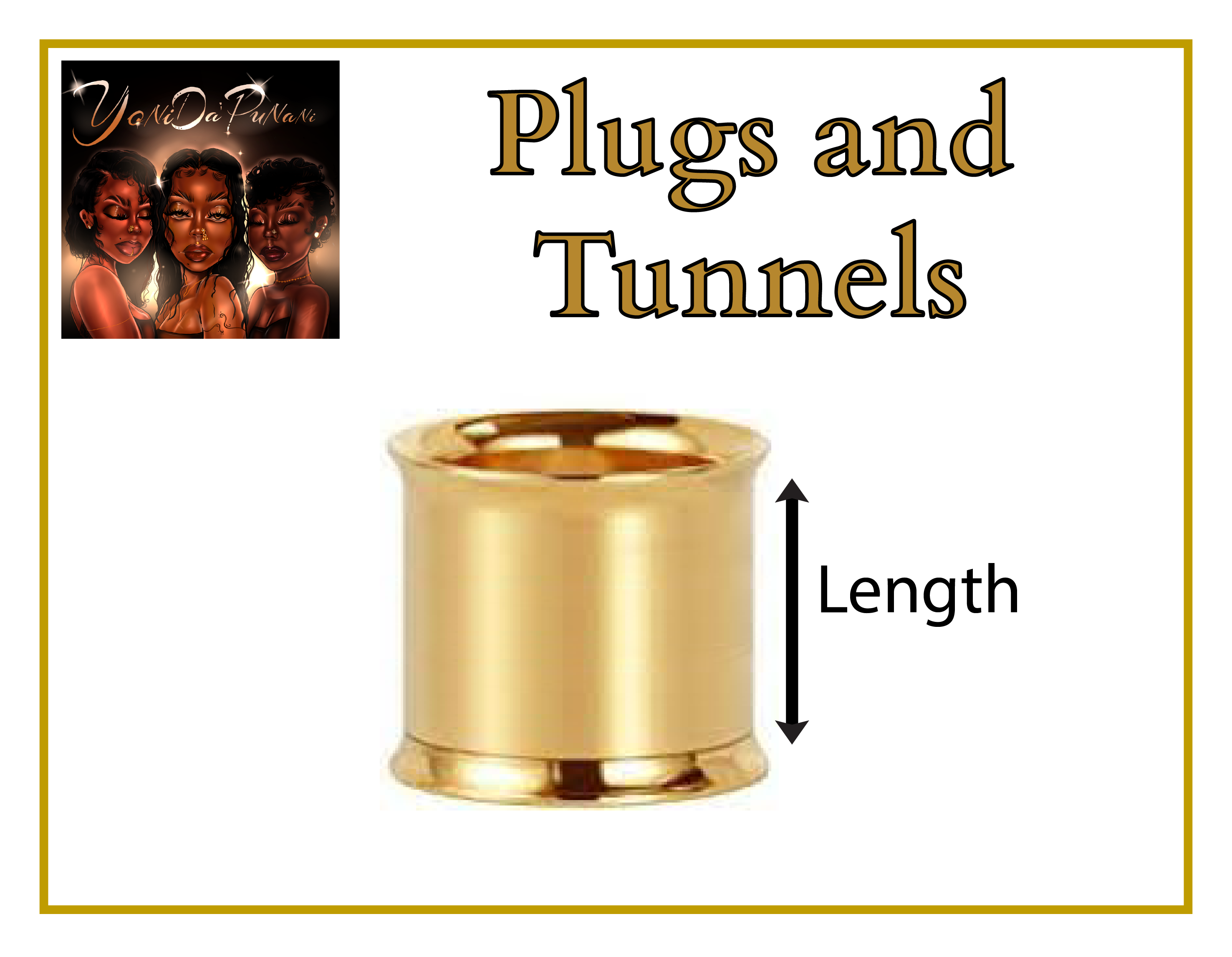 An ear plug wearable length is measured from the inside edge of the horizontal line, as shown in the diagram. The same measurement applies to earlets and ear tunnel body jewelry.
Plugs are manufactured in many different gauges, designs, and variations.
GRAB THE DEAL BEFORE IT IS TOO LATE